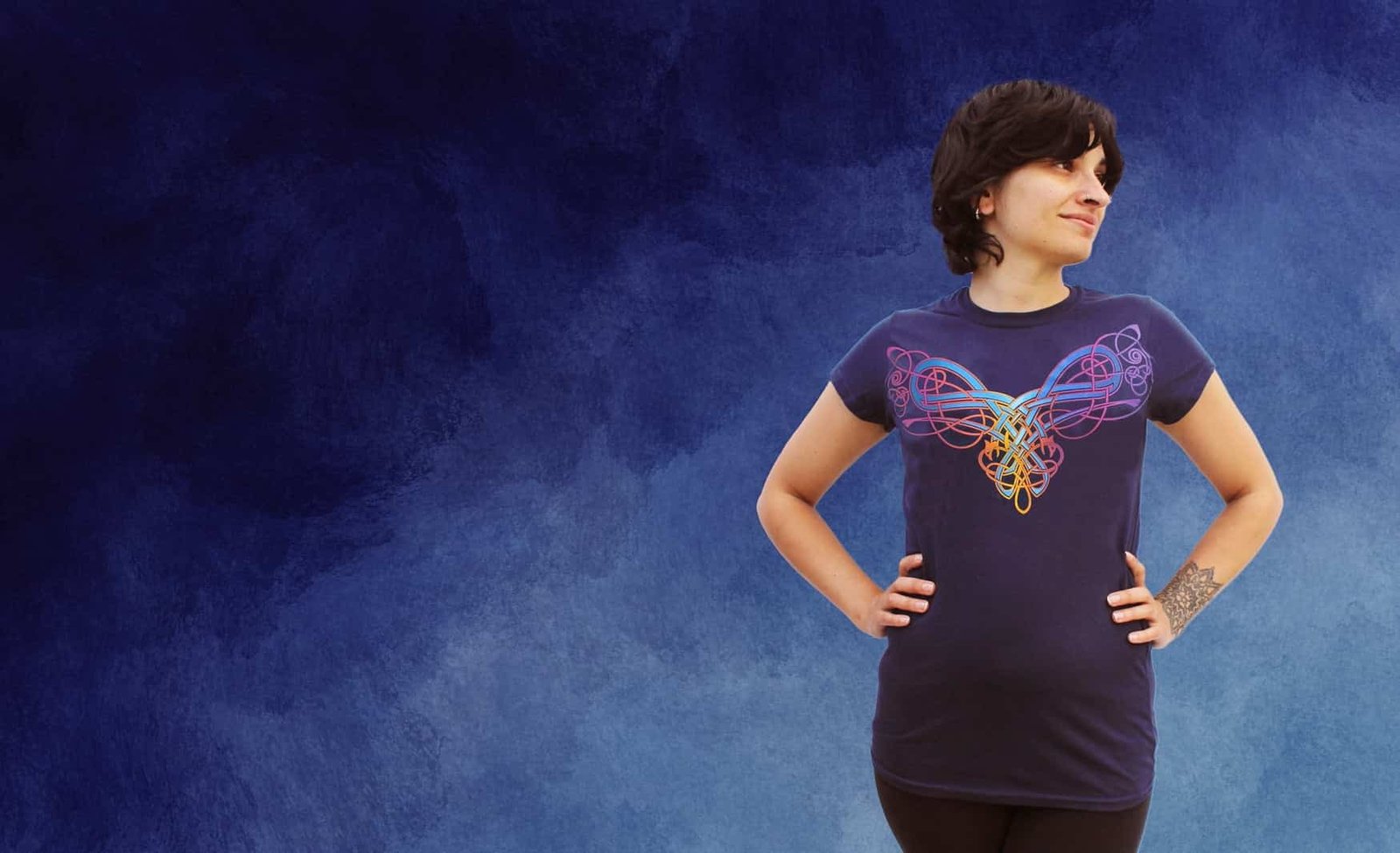 Established 1979.
Irish.
We are

Original screen-printed designs.
Unique.
We are

Crafted by the sea in Lahinch. Loved the world over.
Celtic T-Shirts.
We are
A small, family run business on the Wild Atlantic Way.
We have been in business for over 40 years now, and we take pride in our work. Everything is done by hand in our shop – from the pencils we use to draw our designs to the squeegees we pull the ink across the screen with! We love hearing from our returning customers that our garments stand the test of time – we have a passion for creating treasures for your chest!
"We love wearing them."
My son was given a Celtic T-Shirt as a gift. He liked the design so much, we found the web site on the back of the tag and both ordered one with a different design. We love wearing them. The staff were helpful and friendly and even sent us an extra gift and a thoughtful, personalised card for having to wait so long for the package (due to COVID-19 restrictions).
"The colours of the designs are still brilliant…"
Years ago I'd bought some T-shirts. Still have many of them – super Quality – and the colours of the designs are still brilliant like on the day I bought then. The staff is absolutely fabulous. Last week, I was on my way there… I texted, we would just arrive short before closing… They waited for us and kept the shop open, especially for us! THANK YOU for waiting!"
"I'm a great admirer of both the creativity and quality…"
Great quality, wonderful Celtic motives – I'm a customer for many years now and have been in Lahinch once again two weeks ago, buying shirts for the entire family. Ordered more after my return to Switzerland and the shirts arrived super-fast. I'm a great admirer of both creativity and quality and Celtic T-Shirts combines them with my love for Celtic culture. Keep on going strong. I'll be back!
"So different than lots of other generic Celtic options…"
Great quality T-shirt and loved the unusual designs, so different than lots of other generic Celtic options. I ordered online and the service was excellent, I needed to exchange for a different size and this was easy and problem free. Very happy and would buy here again.
"Beautiful clean designs…"
Have been in a couple of times in the past when travelling down the country, staff always so pleasant and friendly. Recently ordered two t-shirts for a birthday present. They were shipped promptly and I couldn't be happier with them! Beautiful clean designs with lovely vibrant colours, very reasonably priced for the quality of the product 🙂
"This is THE Celtic t-shirt shop…"
This is THE Celtic t-shirt shop – a beautiful establishment in a beautiful town on the northwest coast of Clare, with shirts of the most amazing designs and colours. They are made of high-quality cotton, fit true to size, and wash very well. You won't find ones like them anywhere else, in Ireland or beyond, and the comments that you receive when you wear them will attest to that. The staff are wonderfully friendly and helpful. All in all, a must-visit (and if you can't, the online store is worth a stop, too).
We can print t-shirts for your business!
Getting garments printed for your business or event helps to grow your brand. We work closely with our clients – adapting designs to suit the screen printing process and advising on what will make your logo look its best! We have printed for many events, festivals, pubs, musicians and businesses around County Clare and beyond.